Welcome to Books By My Friends, Lynn. Thanks for dropping by to tell us about your brand new book DEADLY SETUP!
JH: What's the blurb for your book?
LS: When her New England heiress mom announces she's marrying Adam Holloway, Samantha (Sam) is horrified. She's almost sure he's after her mother's money, but her mom is convinced she's finally found her "happily ever after." And then Sam's life implodes. Holloway has been shot to death, and Sam gets arrested for his murder. She fights to prove her innocence with the help of her boyfriend's dad, an ex-homicide cop.
JH: What inspired you to write DEADLY SETUP?
LS: The premise was inspired by a famous case in the 1950s when the daughter of actress Lana Turner was accused of murdering her mother's boyfriend. The strained relationship between Sam and her heiress mom was partially inspired by all the dysfunction and emotional neglect I observed growing up in ultra-wealthy Greenwich, Connecticut.
JH: What one thing do you love most about writing?
LS: I love immersing myself in the lives and world of my characters.
JH: What's next for you in the way of writing/publishing?
LS: I have two projects I'm working on. One is an adult mystery novel, MISSED CUE, in which a homicide detective is investigating the suspicious onstage death of a ballerina while also dealing with the hot mess of her personal life. The second is a middle-grade fantasy about Varney, a kid vampire who hates the taste of blood and is convinced he's landed in the wrong body.
JH: How can readers contact you?
LS: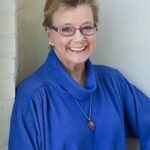 BIO:
After a long career as a professional dancer and dance educator, Lynn Slaughter earned her MFA in Writing Popular Fiction from Seton Hill University. She writes coming- of- age romantic mysteries and is the author of the newly released Deadly Setup. She is also the author of: Leisha's Song, a Moonbeam Children's Book Awards bronze medalist, Agatha nominee, Silver Falchion finalist, and Imadjinn Award recipient; While I Danced, an EPIC finalist; and It Should Have Been You, a Silver Falchion finalist. She lives in Louisville, Kentucky, where she's at work on her next novel and serves as the President of Derby Rotten Scoundrels, the Ohio River Valley chapter of Sisters in Crime.
JH: Thanks, Lynn. This book sounds like a great read. I love how you utilized real life crime as the inspiration. Please come back soon and update us on those great works-in-progress!
All good things,
Joy
XXXXXXXXXXXXXXX