If you ask the graduate, the last thing they want is another book. After years of studying and taking tests, many graduates associate books with stress. But after the dust settles on the cap and gown and the tassel swings happily from the rear view mirror, the grad will appreciate having these books on the shelf when they look around for guidance and inspiration. Every graduate wants money, work, and fun while they follow their chosen path of endeavor. Here are three titles that would make great gifts for the new graduate.
Money
The Prosperous Heart by Julia Cameron is her latest book meant to emphasize and streamline our relationships with money. We learn our money matters from the modeling we witness in family settings as we grow up. How our parents and siblings handled money has a great impact on the decisions we make about making, spending, and saving money as adults. It isn't as simple as seeing a parent save money and then we in turn save money the same way. A lot of the time we act in reverse of what we experienced with money and family. Cameron's book details a twelve step process to help anyone grow a new relationship with money. Simple practices such as writing down every single penny spent every single waking day for the duration of the twelve weeks demands discipline and the willingness to look back on what we spend our money on. It's a step that indelibly engraves on one's psyche the words, "Do I want this, or do I need this?" Knowing the answer can save a lot of money.
Work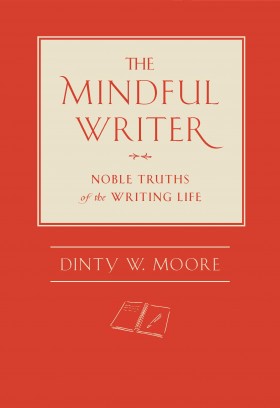 The Mindful Writer, Noble Truths of the Writing Life by Dinty W. Moore is a concise and wonderfully compact book that anybody can appreciate. Writers are everybody and everywhere. If the graduate is going into any professional setting for work they will eventually be asked to write something; a report, an email, a letter. This little book is inspiring and handy. It's great for writers who will love the many quotes from other writers. Moore's comments on each quote are centered around the sense that his study of Buddhism has influenced his writing more than his writing has influenced his study of Buddhism. The Noble Truths are a twist on Buddha's principles aimed at the writing crowd. But who wouldn't be better off taking the sound advice to avoid disappointment by grasping and being satisfied with what we have rather than what we don't have? "Do I want this, or do I need this?" Knowing the answer can save a lot of stress.
Fun
Writer Wellness, A Writer's Path to Health and Creativity by yours truly has the disadvantage sometimes of having a title by my own design that makes the book appear limited in application. There is much in the book that anybody can enjoy and use to add creativity to life and work. Ideas about journaling, fitness, relaxation, nutrition, and creative play are good for the soul.  
Of course, it won't hurt to slip a twenty dollar bill between the pages of the books before you gift the grad.
Did you get a book for graduation that has served you well? Please leave a comment and tell us about it.
Meanwhile, remember to look for a digital or print copy of Writer Wellness, A Writer's Path to Health and Creativity at
Have you subscribed to this Writer Wellness blog yet? Get email updates when a new post is added. Click "subscribe" and leave your email. That's it and thanks in advance!
Be well, write well.